Recently my husband and I took on the monstrous task of remodeling our kitchen and bathroom. The project involves stripping forty plus year old wallpaper and painting instead. Sparing the gory details of the enormous work involved, suffice to say after two days I had a ready canvas-my wall.
For those of you not familiar with the technique, first you begin by applying a base coat.  After sufficient dry time comes the glaze over with a complementary color.  The greater the contrast between the two, the more dramatic the effect.  Using a rag, you soak it in the glaze color.  Squeeze out the rag and form it into a cylinder.  After that, roll away.  Here is an example of the effect.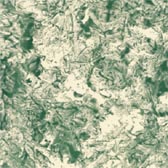 Products from Lowes
Have to put in a plug for Lowes.  They provided the supplies and expertise.  End of commercial.
The technique was stunning.  It almost looked natural like leaves.  With both colors shining through and the mix of the two, I thought the effect was marvelous.
So how does that help my watercolor?  Control.  Control of the degree of saturation of the rag produced different effects.  The best results came from a rag not dripping wet, but a little dryer.  Though messy, the application does have a place in your watercolor tool kit.  Nice for a background, for texture.  To use this successfully in watercolor, the paint has to be of a richer mix.  Make sure and wring the cloth well before beginning.  To minimize drips, a flat surface works best.  For my next project, rag rolling is going to be a part of my work–once the remodeling is done and over.